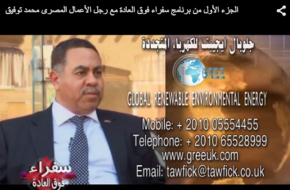 GREE is very grateful for the help and support of the British Embassy in meeting with us at short notice on Friday 31st August, their day off, in matters regarding the GREE proposed Waste and Power Plant in El-Minya.
The British Ambassador for Cairo Mr James Watt commented "At the British Embassy in Cairo we are constantly seeking ways to help British exporters and investors in Egypt. It is an exciting time as Egypt puts revolutionary turmoil behind it and looks to the new government to drive economic reform and growth. We have encouraged existing investors to keep going with their efforts to conclude agreements, and in the case of GREE four years hard work have paid off. A last-minute requirement to have the Embassy witness a Power of Attorney led us to call out one of our consular staff to do this on a Friday afternoon (our weekend here). We were very glad to help, and I took the chance to get to know more about the project. We wish GREE all success and hope to stay in touch."
Meeting to sign Implementation Agreement for 300MW Power Station El-Minya with Governor of El-Minya, Gas Electric and Environment Minister, Arabic Organisation of Industry (AOI) and partner Eleject.